Among the many dubious videos and DIY beauty hacks on the internet, it's hard to tell which accounts you should follow and which ones you shouldn't. Our advice? Trust the experts, such as Aggeliki Argiri, Aesthetician – Cosmetologist and scientific director of the SKIN MATTERS Aesthetics Institute in Glyfada.
Δείτε αυτή τη δημοσίευση στο Instagram.
Aggeliki Argiri, who was a guest on Sophia Aliberti's Ant1 show "Zise Allios" a few days ago, has the most informative accounts on Instagram, TikTok and Facebook, where she posts videos on an almost daily basis for every skincare concern. Keeping up to date with current developments in the skin care industry is her main focus, and she is always there for her clients both through social media and through her book, Skin type Matters.
Δείτε αυτή τη δημοσίευση στο Instagram.
Fun Fact! Aggeliki Argiri graduated from the Athens University of Technology, received her postgraduate training in Florida, USA, and then received her MSc degree from the Athens Medical School in "Management of environmental issues with health implications" and continued her education in England in the field of non-surgical face and body lift.
Δείτε αυτή τη δημοσίευση στο Instagram.
In a simple and fully understandable way, the aesthetician explains everything about skincare with some of her most popular videos being the one on how to choose the right facial soap for your skin and the one on the right order of application of skincare products. On SKIN MATTERS' social media profile you will also find tips for sensitive and acne-prone skin, as well as pro tips on how to "build" your own skincare routine.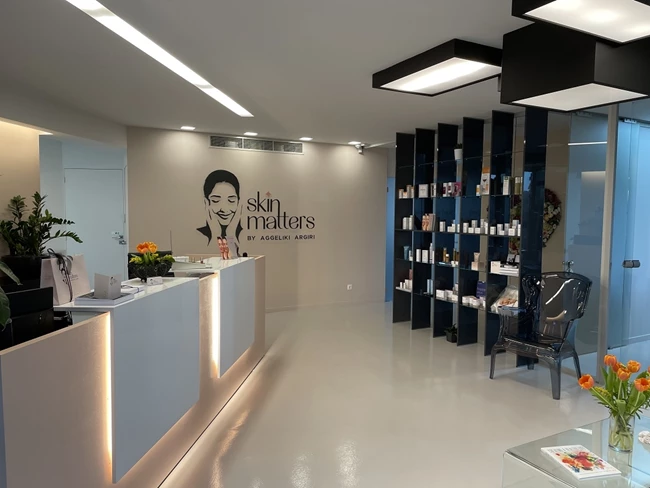 Celebrating its 10th anniversary this year, the SKIN MATTERS Institute has moved to a new, larger space, whose specifications meet the needs of people with disabilities and is equipped with the latest technologies. Aggeliki Argiri collaborates with the best cosmetics companies and creates personalized protocols for effective facial and body treatments for men and women, and if you can't visit her you can book an online session with her so that she can give you directions of care at home.